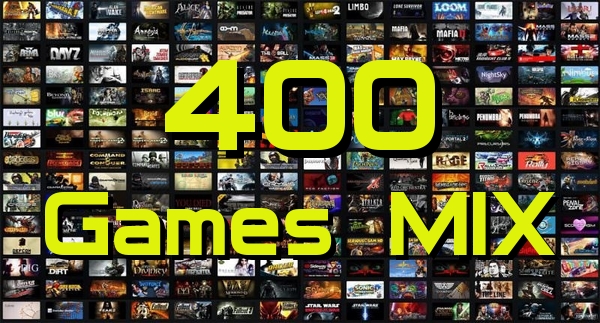 В этом рандоме равномерно перемешаны ключи от 400 разных игр. Среди этих 400 игр около 10 удаленных из стима игр, остальные 390 продаются в магазине стим. Некоторые игры содержат коллекционные карточки, есть как дешевые игры, так и более дорогие стоимостью 100-200 рублей и больше. Минимальное количество к покупке 400 штук ключей.
Внимание! Очень редко вы можете встретить нерабочие ключи, то есть уже активированные на другом аккаунте. Процент невалида не более 1-2%, то есть если из 400 ключей вам попадется 2-4 не рабочих, то это норма. Замены выдаются при предъявлении доказательств ключами из этого же микса.
Внимание! Минимальное количество к покупке данного товара - 400 штук. При покупке 400 шт вы получите все 400 разных игр из списка ниже

In this random, keys from 400 different games are evenly mixed. Among these 400 games, about 5 games have been removed from Steam, the remaining 295 are sold in the Steam store. Some games contain collectible cards, there are both cheap games and more expensive ones that cost 5-10$ or more. Minimum ammount to buy - 400 pcs

Attention! Very rarely you can find non-working keys, that is, already activated on another account. The percentage of invalid is not more than 1%, that is, if out of 400 keys you come across 2-4 non-workers, then this is the norm. Replacements are issued upon presentation of evidence, with keys from the same mix.
Список игр/List of games :
1000 Needles
18+
1vs1: Battle Royale for the throne
3D PUZZLE - Alchemist House
5.0
Hentai Bad Girls
A Demon's Game - Episode 1
A Game of Changes
Action Alien
Hentai Best Girls
Air Dash
Air Strike
Akin Vol 2
Alien Cat
Alien Hostage
Alien Hunt
aMAZE
Among Ass 2: Butt Warfare
Ancient Medieval Empire
Angels vs Demons
Angry Cubes
Angry Squirrel
Animals Fight
Anime Cards
Poly Memory Birds
Archipelago
Assassins Guild
Attempt[42]
Autumn
Away
Badlands Racer
Balls! Balls!
Banana Yetti
Battle Of The Robots
Battle royale simulator
Bear Adventure
Beer Bar
Hentai Big Tits
Hidden Floating City Top-Down 3D
Bikini Girls
Bjorn
Black Jack Story
Blacksmith Run
Blocky Snake
Lustful Professor
Bomb The Monsters!
BoomTown! Deluxe
Boss Of The Mafia
Bouncy Cube
Poly Memory: Predators
BrainTeaser
Branches
Breach
Bullet Grinder
Caliper
Candy gun
Cat Adventure
Cat from the box
CATACOMBS: The Beginning
Catch them!
Cats War
Chaos Saw
Hentai Crazy Girls
Circular
Computer Club
Connect the Dots 3D
Connect the Dots
Control Craft 2
Cool Cat
Coolors
Courage
PIP 2
Crab Digger
Crazy Boom
Crazy Empress
Crazy Santa
Crazy Sapper 3D
Crazy Truck
Сrime Сity
Crushed
Cursed Dungeon
Cute Cats
Cute Girls: Find Secrets
Cyber Runner 2048
Cyberpunk Fighting
Dark Forest Project
Dark Side of Fate
Death Jump
Deep Eclipse: New Space Odyssey
Deer Nightmare
Defense Of Greece TD
Destroyer of Worlds
Detective Story
Detective Story: Reporter
Hentai Cuties
Dick Hook
Distant Space
Dodge
Dog Adventure
DOGE TO THE MOON
Dogs Day
Down the Hill
Drowned Gems
Dungeon Journey
Dungeons & Vampires
DungeonSlime
Hentai Detective
Elemental Girls
Elysium: Blood Games
Endless Space® - Definitive Edition
Poly Memory: Primates
Quest: Escape Room
Escape This
Eyewitness Hopper
Fairy Sister
Fallalypse Death or Cress
Fantasy Kingdom Simulator
Felix Jumpman
Hentai Furry 2
Fish Story
Fishermurs
Football tournament
Forest adventure
Four Animals
Fourthy
Funny Panda
Funny puzzle
Funny Village
Furry Love
Fuyu no Tsuma
Gabenwood: 99 Hidden Bucks
Gachimuchi Life Simulator
Garden Madness
Hentai Gothic Girl
GHOST HUNTER
Girls Gym
Golden Mine Pickaxe 2: Mummy Tombs
GOLF MONSTER
PIP 3
GravNewton
Halloween Girl
Happy
Happy Summer Quest
HardWorker Simulator
Haunted Places
Hentai Swimming Club
Hidden Build Top-Down 3D
Hit Confirmed
Hold your houses
Homeless story 2
Horny Goddesses Quiz
Hot Hentai
House of Detention
Poly Puzzle: Predators
Hyper Box
Hentai Furry
In The Dark
Infected City
Infinite Brick Breaker
Insipid
INVASION
Island of Girls Dreams
Izanami
Jacob The Farmer
Jurassic Attack
3D PUZZLE - Old House
Kabukicho Story
Hentai Milf Quiz
Homeless Story
King of Dragon Balls
Kingdom Classic
Kitchen Simulator 2
Kitchen Simulator 2015
21+
6.0
Labirinto
Alien Cat 2
aMAZE 2
Anime puzzle
Last Escape
Last Night in Zombie Village
Lazy Girl
Candy land
Cat Adventure 2
Cute Cats 2
Let Me Die (inside)
Hentai Monster Quiz
Hidden Object - Sweet Home
Light Fighter
Linked
LONER
Lord of the Dark Castle
LOVE! TRUTH! PUZZLE!
Lust in the Castle
MADGUN
Magemania
Magic Adventures
Magic defense 2: The Return of the Legend
Magic Time
Manual Samuel
Martial Story
MARY
Math Game
Maze Art: Brown
Maze Art: Pink
MechDefender - Tower Defense
Medieval Wars
Megatronic Void
Fish Story: Gourmet Puzzle
Furry Love 2
Hentai Police
Mighty Castles
Mini ship wars
Minimalism
Miss Furry
Mistake
Mommy
Moon Defense
Motion Of The Heart
Motorbike Traffic Splash
mr.Vegan
My name is human
Mystery Swords
Mystical Island
NAGARE-BOSHI
Neighbor Diana
Neighboring Islands
Neon Arena
Furry Sex Madness
Hentai Sexy Nurses
Quest: Escape Room 2
Sex Clicker
Nude In The Dungeon
Nya Nya Nya Girls
Nyasha
O'Fox Life
Furry Striptease
Hentai Shooter 2: World Tour
Hidden Tavern Top-Down 3D
Labirinto 2
OMNIMUS
OMON Simulator
One Try, One Kill
Operation swat
Orenji-iro no Kumo
Sex Girlfriend Simulator
Parallax Tunnel
Partless Ron
Penguin Quest
Petty's Adventure: Desert
Furry Sex
Hentai Shooter 3D: Christmas Party
Physics car FOREVER
Pick The Lock
Pilot's Misadventures
PIP
Pipes Puzzles
Pirate fishing
Pirate Story
Pirates vs monkeys
Pixel Puzzles: Japan
PixGirls
Planet B24
Planetoid
POG 8
Poly Puzzle: Primates
PonGlow
Pool Adventure
Prank!
Sex Simulator 2020
Psychic
Psycho on the loose
PSYCHO
Put in
Puzzle Art: Primates
Puzzle Cube
Puzzles with cats
Furry Orgasm
Hentai Simulator
Sex Toys
Queen of Honor
Quest: Escape Dungeon
Quest: Escape Room 3
Rain Puzzle
Really Trash Game
REBEL
Red Hero Adventure
Redactem
Redemption: Eternal Quest
Regimental Chess
Rescue Helicopter
Researcher
Risky Rescue
Road Trucker
Robo Go
ROBOCOCK
Roll'd
Roscosmas Landing
RUN OR FIGHT
Russian Hentai 3
RUSSIAPHOBIA
Save the bear cubs
Searching for objects in the forest
Secrets of the Middle Ages
Seven Bullets Zombie Apocalypse
Sex Apocalypse
Shadow of Egypt
Hidden Western
SKAZKA
Skeletons VS Nadia
Sniper Game
Snowboarding
Snowman Adventure
Soer Dolls
Space puzzle
Space Survival
Spinner Breaker
Splash Fly Fire
Splash Jump
Splash Jumper
Splash Road
Splash Ship
Spooky Shooter 3D
Square n Fair
Star Merchant
StarFringe: Adversus
Starship Annihilator
Starveling Way
Stay away from zombies
Stellar Fight
Stranded In Time
Strategic War in Europe
STRAY KITTEN
STRIPPERS
Summer Weekend
Sunny Memories
Super Meat Shooter
Survivalizm - The Animal Simulator
3D PUZZLE - Wood House
Take no Prisoner
Take Over Body
Tapering Tower
Cute Cats 3
THE CURE
The Duck Is In Danger
The Hero's Way
The Last Hike
The Life of One Dog
The Lobster Game
The Lone Alien
The Office
The Red Exile
Three Hundred Bucks
Through Abandoned: The Forest
Sexy Milfs
TV Thief
Twin Balls
Twine3D
Hentai Sweet Girls
Undead Menace
Under Siege
UNRESTRAINED
Sex with Teachers
Cute Dogs
Veggies War
Girls Shop
Viking Story
Virus ON
vision\memory\maze
Lustful Pussies
Vojo
Vortex Rolling
Wall to Wall
Watashi no Kokoro!
Water Search
Wavy Trip
Weable
Weapons Geniu
Webcam Sex
Weeping Willow
Hidden World Top-Down 3D
House of Witches
Wild Adventures
WILD WEST
Winding Road
Women's Prison
xdding
You are a slave!
Your Home
Sexy New Year
Yummy Mahjong
Zball VI
Hot Sauna
Zombie City
Zombie Maze
Zombie Rush
Zombie VS Police
Zombies Attack
Zombies Desert and Guns
Zoo Cleaner