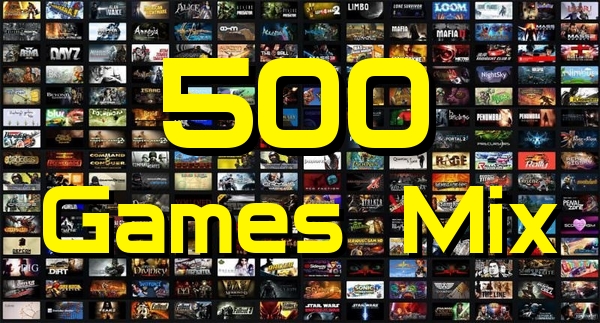 In stock: 0 pcs
0.10 $
Buy
В этом рандоме равномерно перемешаны ключи от 500 разных игр. Среди этих 500 игр около 200 удаленных из стима игр, остальные 300 продаются в магазине стим. Некоторые игры содержат коллекционные карточки, есть как дешевые игры, так и более дорогие стоимостью 100-200 рублей и больше. Если вы купите тут 1 ключ, то получите 1 игру. Чтобы получить все 500 игр, нужно купить 500 штук ключей.
Внимание! Очень редко вы можете встретить нерабочие ключи, то есть уже активированные на другом аккаунте. Процент невалида не более 1-2%, то есть если из 500 ключей вам попадется 5-10 не рабочих, то это норма. Замены выдаются при предъявлении доказательств ключами из этого же микса.
Внимание! Минимальное количество к покупке данного товара - 500 штук. При покупке 500 шт вы получите все 500 разных игр из списка ниже

In this random, keys from 500 different games are evenly mixed. Among these 500 games, about 200 games have been removed from Steam, the remaining 300 are sold in the Steam store. Some games contain collectible cards, there are both cheap games and more expensive ones that cost 5-10$ or more. Minimum ammount to buy - 500 pcs

Attention! Very rarely you can find non-working keys, that is, already activated on another account. The percentage of invalid is not more than 1-2%, that is, if out of 500 keys you come across 5-10 non-workers, then this is the norm. Replacements are issued upon presentation of evidence, with keys from the same mix.
Список игр можете посмотреть по ссылке (может незначительно отличаться)/List of games you can see by link (may vary slightly):
https://yadi.sk/d/CyzyLEy82yr-Fw

100 RUB: Operation Global Denomination
100$
1000 Shards
18+ MEMORY
1vs1 Battle Royale for the throne
3D Hentai Memory Game
5.0
70 Seconds! Adventure
A Trip to Yugoslavia: Director's Cut
AfterTime
Agent Murphy
Alien Cat 5
Alien Shooter in Space Cradle - Virtual Reality
Alien X
ALY Girls
aMAZE Classic
aMAZE Double
aMAZE Frozen
aMAZE Untouchable
Ambers BOOM
Among Ass
ANCIENT EVIL
Angel Tears
Angry Bunny 3: Virus
Angry Golf
Anime Solitaire
ANIME WORLD
AOK Adventures Of Kok
Apple Hopper
Arcane Eyes
Arcane preRaise
Arcane RERaise
Archangel
Arkball
Army Craft
Arthur's Revenge
Asset Flip Simulator
Asteroids Belt: Try to Survive!
Attrition: Nuclear Domination
Avoid!
Axiom Alternative
BAFF
Balloon
Battle Cube
Battle For Crown: Multiplayer
Battle Simulator
Beach anime day
Beat The Moles
BEER
Before Nightfall: Summertime
Benjamin Johnson EP.1
Bird
Bitcoin Clicker
Bitcoin Collector Spinners Attack
Bitcoin Collector
Black Death: Divarication
Blackjack of Strip
BLED NAVALNY
Block Competition
Blueberry Garden
Book of Shadows
Boon Boon
Brave Hero
Breach
Broadsword : Age of Chivalry
Broken Ecchi Gallery
Brutal Runner
Bubble Strike
Buried Chambers
Burst Squad
Business-hooiznes
Cars vs Zombies
Castle Defender
Chaos and the White Robot
Chicken Shoot Gold
Chilie Peppers
Chinese Bull
Choco Pixel 2
Choco Pixel 3
Choco Pixel 4
Chocolate makes you happy 2
Chocolate makes you happy 3
Chocolate makes you happy 4
Chocolate makes you happy
Christmas Hentai
Clash Memory Game
CLASSIC TANKS 2020
ClickMonster
Club Girl
Cocktail for Beauty
CORONAVIRUS
Cortex
Cosmonet: Space Adventure
Countryballs: Over The World
CRASH THE GAME
Crazy Derby Racing
Crystal Spires
Crystals of Niberium
Cubic complex
Cyber Pussy 2020
Cyberpunica 2.0.2.0
Cyberpunk Sex Simulator
CYNK 3030
Dangerous Zone
Danko and treasure map
Dark Shadows - Army of Evil
Dark Side of War
Data mining 3
Data mining
Dead Bits
Dead Dust
Dead Warrior Tribute
Deadly Runner
Debtor
Deep Race: Battle
Defence to death
Destiny Girls
Detective Story
Devour them all
Dino Zoo Transport Simulator
Dispersion
Don't Panic!
door
Dragon Boar and Lady Rabbit
Dragon's Dungeon: Awakening
Dream Pinball 3D
Drunken Fight Simulator
DSquad War
Dungeons Of Kremlin: Remastered
Earth 2140 HD
Earth 2150 Trilogy
Earth 2160
Easter Pairs
Ecchi Girls
Ecchi MEETING!
ECCHI NEKO GIRLS PUZZLE
Ecchi Sky
Elon's Dream
Elven Truth
Enclave
Endless Space - Collection
Endless
Ero Snooker
Ero Tennis
Escape from here
Evil Inquisitor
Evolo.Evolution
Exploration of Xianshan
Eyes of Fear
Fable Rush
FACE
Faction War
Falldown 79: Bottle of truth
Fap Simulator 2020
FartPart
Fast Rolling
FIGHTING BOX
Fission
flChess
Flyist
Food Stranding
FORGOTTEN IN HELL
Forgotten Land
Fragile Box
FRENZY PLANTS
Fruit Mess
fsslc
Furgal's Jetpack
Fury Captain
Gachi Heroes
Game club "Waka-Waka"
Gamehunt
Gazzel Quest, The Five Magic Stones
Glowing Sokoban
Go, Go Cowboy
Gold Dust
GOLF MONSTER
Gorky 17
GraFi Easter
GraFi Lunar
GraFi St.Patrick
GraFi Valentine
Gravity Mummy
Great Alhcemist
Guns And Waifus
Guns Boy
Guns of Bullshit
Gurney to Gurney
HANAMI
Happy Valentine's Day
Hard Driver 2
Hard Driver
Hard Era: The Fantasy Defence
Hard Minus
Heli Heroes
HELLO PLAYER
Hell`S Little Story
Help
Hentai Coloring Game
Hentai Girlfriend Simulator
Hentai Hunter
Hentai Maid Club
Hentai Petting Simulator
Hentai Shooter 3D
Hentai Simulator
Hentai Swimming Club
Hentai Teen
Heroes Of Maidan 3: Crimean Battle
Heroic Adventures
Hidden Object - Sweet Home
Hollywood Hero
Hollywood Hero: Comeback
Home defender
Hooligan Vasja: Halloween
Hot steel
Hover Ship
HuH?: and the Adventures of something
Hungry Shadows
I LIKE THE FLOWERS
The 'I Love Money' Show
Idolzzz
Immortal Wanna
Infected Town
Inglorious Pirate
Inland
ISEE
ISIS Simulator
ISLA test
Islands
Jack Orlando: Director's Cut
Jack's Labyrinth
Jagged Alliance 2 - Wildfire
Joy Pony
Juicy Memory Card
Kabukicho Story
Kasmo
Kids Memory Game 2
Kiiroi Hana
Kill The Censored 2
Kilmonger
Kingdom: Classic
Knight Fighter
KnightShift
Kraven Manor
Labirinto 2
Laserium
Last Defense
Last Escape
Last Knight
Leaper
Learn to Drive on Moto Wars
Let me leave corona zone
Let's make... sports
Little Adventurer III
Little Arena
Little Dog
Little hidden city
LittleBigSoko
Lopp
Lost in the Forest
Madness
Mailbox
Marble Parkour
Meatball
Meowk and Frocco
Milky Strike
Mine the Gold
MineStickman
Mini Car Money Chase
Mission: Escape from Island 3
Mission: Wolf
Mommy
Monster Shooter
MotoRun
Moves
Mr. Parkour 2
Mr. Parkour 3
Mr. Parkour
Murazu
Muscle Car Robot
My Sweet Washing Machine!
Mystical Lights
N.E.U.F.O
Naked Warrior
Need for Spirit: Drink & Drive Simulator
Need for Spirit: Off-Road Edition
Neon Brood
Neon Hardcore
Neon Parkour
NeonGalaxy Wars
Never Going Home
Next Hand Master
Nice Way
Nicolay's Adventure
O'Fox Life
Oasis Shooting Ops
Occult preRaise
Occult Raise
Occult RERaise
Operation Biotech
Outrunner 2
Outrunner 3
Overcast - Walden and the Werewolf
Owl Simulator
Particula
Peace Duke
PewPew!
Physical Glitch
PIDO1
Pixel Piano
Pixelfence
Piximalism
Planet Station
Please close the doors
PLUGMAX
Police Patrol
Pressure
Primitive Race
Pripyat-3
Project Defense
Project Shield
Project: R.E.B.O.O.T 2
Proviant
Psi Cards
PSIONIC
Psychical Madness
Puppies vs Undead
Pursuing Susie
PUSSY
Putinization
QUARANTINE Girls
Raccoon: The Orc Invasion
Rampage Online
Randomizator
Range Ball
Rary
Reach Me
Reach the Summit
Real 1942
Red Dead Pixel Man
Redemption Girls
Reroll: Back to the throne
Restricted Area
Retro Dungeons
ROAD OF DANGER
Robo Terror
Rogue Port - Blue Nightmare
Rogue Port - Red Nightmare
Roscosmas Landing
Rosy Manga
Rover Rescue
RUN HARE RUN
Running Black
Russian Hentai
Russian Reality
Sakura Girls
Sakura Mochi
SAMURAI IN AFRICA
Sausage Hunter
Save Christmas
Save Daddy Trump
Save the Planet
Save Village
SaveHer!
Saving Animals
SCREW-NUT
Septerra Core
Sex Apartments
Sex Apocalypse
Sex City
Sex Lesson
Sex Simulator 2020
Sex Simulator
SEXXXNATOR: Adult Sandbox RPG
SHARK
Shooty
Simulator gas station
Skeasy
Skill at Time
Skull Rogue
Skywalk
Sleeping Beauty
Smoked Gun
Sniper Fodder
Sniper Operation Z
SNIPER TANKS
SnL
Snowy Love
Soft Wind
Something Strange in the Woods
SORRY FOR WHAT?
Space Abyss
Space Candy
SPACE Craft
Space Hurricane Storm
Space Pilgrim Episode I Alpha Centauri
Space Shock 3
Spandex Force: Champion Rising
Sperm Runner
Spirit of dungeon
Spring Flower
Squares
Star girls
Star Police
Star Puzzle
Starship Tunnel
Starting The Game
Stealthy ninja
StepX
Story of the Survivor : Prisoner
Strange Things
STRAY KITTEN
Study of Unusual: Forest of Secrets
Stunt Hill
Color Circle
SUMMER Girls
SuperNatural Duels
Swap Roles
Sweet Halloween
Sweet Tooth 3
Synth Ninja
Tap & Clapp
Tavern Cards
Teeny Heist
Tell Me Everything
Terro Lunkka Adventures
THE ART - Metamorphosis
The battle of the canyon
The Deepest
The Doorbreaker
The Evil Party
The Exorcist
The Forestale
The guard of dungeon
The Hunt in the Forest
The Lost Dungeon Of Knight
The Lost Wizard
The Old House
The Orion Suns
The Prism
The Quarter Game
The Road to Gelendzhik Palace
The road to revenge
The Thing: Space X
TheLooppy
There's Poop In My Soup - Pooping with Friends
Thread Fred
Through The Dust
Through the Mirror
Thunderbolt
Topfold
Torch Cave 3
Torch Cave
Totally Mayhem
Toxic Townsmen
TrapLand
Trapped Guys
Triangle Wing XXXX
Triggering Simulator
Truck Crash
Underground Gossip
Unicorn Dream
V nekotorom tsarstve
VALORA Girls
Vickinachi
Viking Story
Village Story
Vogue, The Explorer
WannaMine
WARIUM
Warlock Revenge
Watch Tower
WeakWood Throne
Western Adventure
WestLand Adventure
White Dandelion
Who Is You
Wild RTS
World Puzzle
World War 2 Winter Gun Range VR Simulator
World War III: Black Gold
World War II: Panzer Claws
WWII - TD
X-Blades
XENOS Defense
You are apt
Young Archaeologist
Your Ball Exploded
Your Car Shooter
Your Home
Zambi 2 Kil
Zball II
Zball V
Zball VI
Zball
ZELENSKY vs POROSHENKO: The Destiny of Ukraine
Zhulik.exe
ZombieVan Drive
Zombow
Zulup